March 09, 2011
Sometimes you gotta decide is your health more important than the taste  sensations of carefully crafted cuisine.
The time has come for me. I do love McDonalds Biscuit Sandwiches and assorted fast foods. I could eat fries by the bucket full and who can resist a double even when a single would be satisfying.  Well we can resist when the time is right. Start using your brain the way it was intended to be used.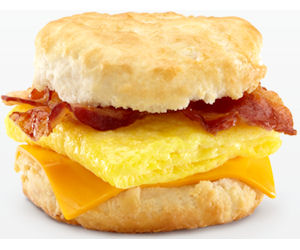 It is for making intelligent choices and by choosing well you become wise. Make this your time. Control. Its a personal thing. You make the decisions that can affect your health and fitness as well as your happiness.  Cut down on how much you eat when you are taking on board more than your body needs.
Substitute good foods for bad. Maybe eat small amounts on a timely basis. I found that adequate breakfasts including McDonalds Sausage Biscuits or ask for the biscuit with just folded egg, (each currently priced at $1.00) varied with cereal, yogurt, fruit, even bacon and eggs can set me up for the day.
Then about 3 hours later I have a banana, an apple or a pear. A few hours later lunch maybe some ham, a boiled egg and some crackers; more fruit in the afternoon and a salad when I get home. Maybe you could try dome almonds as a snack during the day. Start now and reward yourself after a week or so with some of your favorite foods but take it easy and good luck.